Four Seasons Exclusive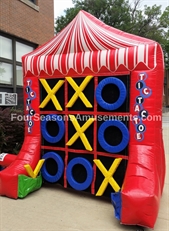 View Photos
Two Super Giant Games for DOUBLE THE FUN! (10′ High x 8′ x 6.5′)
SUPER GIANT TIC TAC TOE- The traditional game of Tic Tac Toe is resized to GIANT proportions and can now be played on any surface indoors or out. The game takes on a whole new dimension when it is played in GIANT size with GIANT foam game pieces.
SUPER GIANT CONNECT FOUR- A challenging game of vertical strategy that's easy to learn and fun to play. Rules are simple. Each player tries to build a row of four playing pieces in the frame – horizontally, vertically,
or diagonally – while trying to prevent their opponent from doing the same. Be the first player to get four of your colored game pieces in a row!
Requires (1) Dedicated 110V/ 20 Amp Circuit
Back to top