TRACKLESS, ELECTRIC TRAIN, & CHOO CHOO TRAIN RENTALS
Fun for ALL ages! Complete with an authentic train whistle, the Royal trackless train is gas powered and larger than the Chelsea Train. It has three cars attached to the main engine and seats up to six people per car!
HIGH CAPACITY! Accommodates 18 Children & Adults
No Electricity Required
Includes Attendant
Comes standard with a train engine & 3 cars that will accommodate up to 14 children. Can be used indoors or outside, a great addition to any birthday party, company picnic, or holiday celebration! Track measures approx. 35′ L x 15′ W. Includes train, track, fencing, and attendant.
Accommodates 14 Children per ride
Requires (1) Dedicated 110V / 20 Amp Circuit
Includes Attendant
Four Seasons Exclusive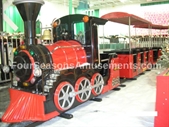 View Photos
Bigger than the El Paso train, bigger than the Piggy Train, the Great Western Train is sure to delight adults and children alike! Oval track measures approximately 55' X 24' or 45' X 24'.
HIGH CAPACITY! Accommodates Up to 20 Children & Adults
Requires (1) Dedicated 110V/ 20 Amp Circuit
Includes Attendant
Back to top